Mentee Spotlight
Rosalee Hernandez
Area of Study: Microbiology and Immunology
Mentee with RTE since Fall 2017
Rosalee is a Junior majoring in microbiology and immunology. She has been an active mentee with RTE since transferring to UTSA in the Fall of 2017. Rosalee joined RTE because she was new to San Antonio and UTSA and felt the program would help her gain knowledge of the campus and not feel lost.
Rosalee was chosen for mentee spotlight because of her participation in Alternative Winter Break. This event provided relief efforts for the communities impacted by Hurricane Harvey. She enjoys volunteering, but due to her busy semester schedule she is limited to what she can do. Alternative Winter Break was the perfect solution for her schedule, she got to spend her free time helping people in need. Way to go Rosalee!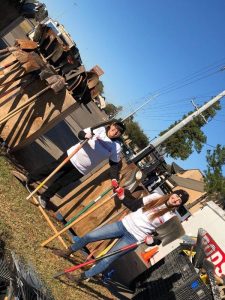 Natalie
Hi guys! My name is Natalie S. Torresdey and I am a First-Generation college student. Currently I'm a Junior majoring in Finance and I would like to pursue a career in Investment Banking. I love UTSA and enjoy being involved on campus through the Student Government Association, my business fraternity Alpha Kappa Psi, and the Honors College.
I am super passionate to be a peer mentor! Having faced many obstacles of being a first-gen student I truly know how it feels to be lost about all these new changes and stressed out about your educational career but you don't have to feel that way! Thanks to amazing programs like these you don't have to face these changes alone! As a peer mentor I am here to assist and guide you through your college career and ensure you have the best possible UTSA experience! I look forward to meeting you soon!
Monica
Hola! My name is Monica de Leon and I'm from Monclova, Coahuila. I am a transfer and international student at UTSA majoring in Cyber Security. I am a member in Alpha Kappa Psi and Association for Computing Machinery.
The reason why I am a peer mentor is to make students' transition easier, have a positive impact one someone's life, share my experiences, meet new people and as well as learn from other people's experiences.
Deonte
My name is Deonte Orange and I'm from Austin, Texas. I am a first-generation student who is currently a junior, studying Business Marketing. I'm very passionate about business and music and hope to become the top Marketing Director in the music industry and eventually own my record label.
I am a peer mentor to ensure that students have a great experience while here at UTSA and to relieve any stress, anxiety, and obstacles that come along the way. Also, this opportunity allows me to grow personally and connect with others.
Civil Rights and Social Justice Experience
By: Joseph Ulloa
The Student Leadership Center at UTSA provides students with the opportunity to be submerged into the Civil Rights Movement and the history of where our country came from; a society who believed in segregation. The Civil Rights and Social Justice Experience will stay with me for as long as I live and will help me make decisions in the future as a leader – no matter the institution I am a part of. The historic sites I visited were the Little Rock High School in Little Rock, Arkansas; the 16th Street Baptist church in Birmingham, Alabama; and the National Civil Rights Museum in Memphis, Tennessee.
The Little Rock High School was the most interesting site, knowing that I walked in the same foot steps of the Little Rock Nine was an honor. Hearing about their experience was unreal; to know that these students were being harassed while attempting to receive an education is upsetting.
Another site that was interesting was the National Civil Rights Museum, which is the same hotel that Dr. Martin Luther King Jr. was shot at. The site is no longer a hotel, but is now a museum. It was amazing to know that his last speech had an impactful ending at the church near by. Listening to his last speech on YouTube in the church he spoke in, was emotional for all of us. His speech "I've been to the mountain top" had an ending that sounded as if he knew he was going to die. He will be remembered throughout history as a hero for Civil Rights but in my opinion, he was a sacrifice for the equality we have for minorities today.
I will never understand, firsthand, what they went through, but I do know that I will do my best to prevent this experience from happening again.  As an advocate for equality, I will take this experience to educate my peers that there is still inequality today. We all have the power to make a change through voting or to be part of a movement/organization whose mission is to help minorities succeed and reach their full potential. I urge other students at UTSA to take advantage of this trip and apply at the Student Leadership Center on campus.
You can visit the Student Leadership Center's website here: http://www.utsa.edu/slc/
Kickboxing at the REC
RTE peer mentors Mailaine Patton, AJ Marroquin, and Katie Moheit teamed up with F2G&G peer mentor, Alexis Jackson, to check out the campus REC's group Kickboxing class on Thursday, January 11. Several mentees joined the group to enjoy 45 minutes of non-stop fun – and exercise. This class is held at the REC Thursday evenings at 5:30pm for this Spring semester. It's a challenging class, but it's a fun and different way to workout with your friends.
Group classes are held at the REC daily and are free for enrolled UTSA students. To check the schedule and class descriptions you can visit the REC on the Main Campus, or go to https://campusrec.utsa.edu/fitness-wellness/activities/group-exercise to view the schedule online.
Peer mentors from both PIVOT programs are attending classes on a daily basis, contact your peer mentor for more information to join the group.