Glennette Castillo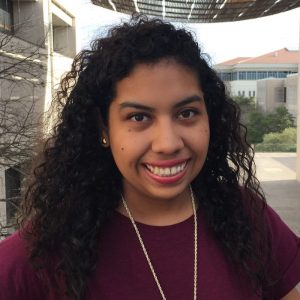 Major: Biology
A mentor since Jan. 2016
Glennette was chosen for mentor spotlight because she was just accepted to UTHSA Medical School and will be starting July 31! Feeling disconnected to UTSA and student life, she decided to apply for the position of peer mentor her sophomore year. She was drawn to helping others; helping is how she finds herself most happy. Her strengths include organizational skills and helping students break out of their shells. Since becoming a mentor she has grown as a person who is more understanding and patient.
Craig D. Elstak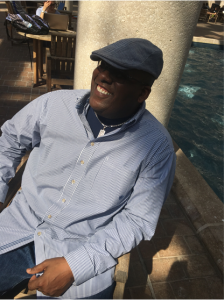 Major: Global Affairs, Geography
Been with RTE since Feb. 2016
Craig is a US Navy Veteran that found himself returning to school after 30 years. Initially, he found himself drowning in a strange place, with strange people. Although there was an age gap, he realized that there was solidarity among students in the desire to succeed. He needed someone who could look past the age and address the need. Joy, his RTE mentor, came in and went straight to work. She helped Craig identify the study skills that suited him best by sharing solutions that helped her. Craig has made a great deal of progress at UTSA, joining the United Nations Society and Study Abroad to Mexico City.
Post Archives
Fitness Friday!
By Mailaine Patton
In the beginning of March, RTE Mentor Richard Robles started a new initiative called Fitness Friday. With finals and summer just around the corner what better way to distress and burn calories than having fun with your RTE friends and mentors? We meet every Friday at 4pm in the Campus Recreational Center for an hour of cardio! Everyone is welcome and all levels of fitness! This is a judgment free zone where you can work at your own pace.
For more information ask your RTE mentor or email us at pivot.rte@utsa.edu.
RTE visits the Emergency Oxygen Course at the Rec
by Mailaine Patton
Mentors Isis Burks (Kinesology major) and Mailaine Patton (Biology major) were certified in Emergency Oxygen through the campus recreational center. This course teaches the skills necessary to provide care to a victim of a breathing emergency. They learned to use breathing devices such as the resuscitation mask and bag-valve mask resuscitators. Both mentors decided to complete the course to strengthen their resumes.
The course is 2 hours in length with a $20.00 fee for students.
The course requires an 80% passing score on the certification test at the end (though 2 tries are allowed). Upon course completion and passing, you receive a digital certificate from the Red Cross a week later through email. Each certificate includes a unique ID and QR code, meeting employment requirements.
The next opportunity to take the course is March 24! Sign up at the front desk of the Campus Recreation Center or visit them online here!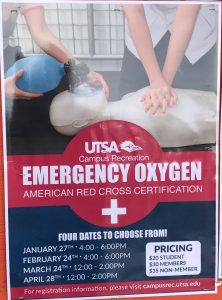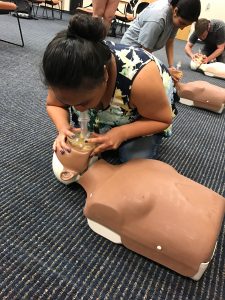 Steak n Shake now on campus!
Mailaine Patton Feb. 21, 2017
Want to try someplace new to eat this week? What better way to treat yourself after a long day of studying then a hand-dipped milkshake!
Steak n shake opened up last Wednesday inside the JPL.
Burgers are made to order and the milkshakes are a delicious way to cool down as the temperature outside rises!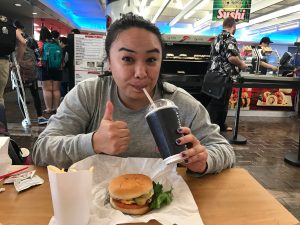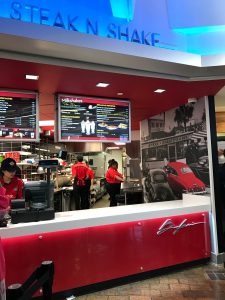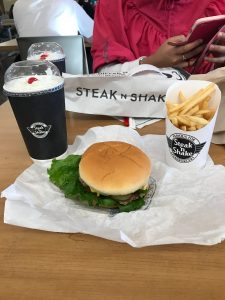 Check out the article about our open house in UTSA Today!
Rec Demo Kitchen
Mailaine Patton Feb. 21, 2017
Want to learn how to cook? Looking for healthier options in the kitchen? Come take part in a kitchen demonstration hosted by Steve Kudika and learn step by step how to make delicious, healthy meals. RTE mentor Mailaine and mentee Andrea attended last week and learned how to make baked chicken mac n cheese bites. Both had lots of fun and agreed they would definitely go again!
Kitchen demonstrations happen at 6pm at the Campus Rec Center every other week.
The next demonstration is March 2 and will be how to make sushi! RSVP early, spots fill up quick! campusrec.utsa.edu/fitness-wellness/activities/demonstration-kitchen