Alfred
My name is Alfred Wande and I am a junior from Houston Texas. I am a currently majoring in Psychology. I am also a transfer from the University of Mary-Hardin Baylor and this fall will be my second year at UTSA. During my free time, I like to workout. My Favorite Basketball team is the Houston Rockets.
The reason I am a Peer Mentor is that I want to help students get involved and have a great experience at UTSA.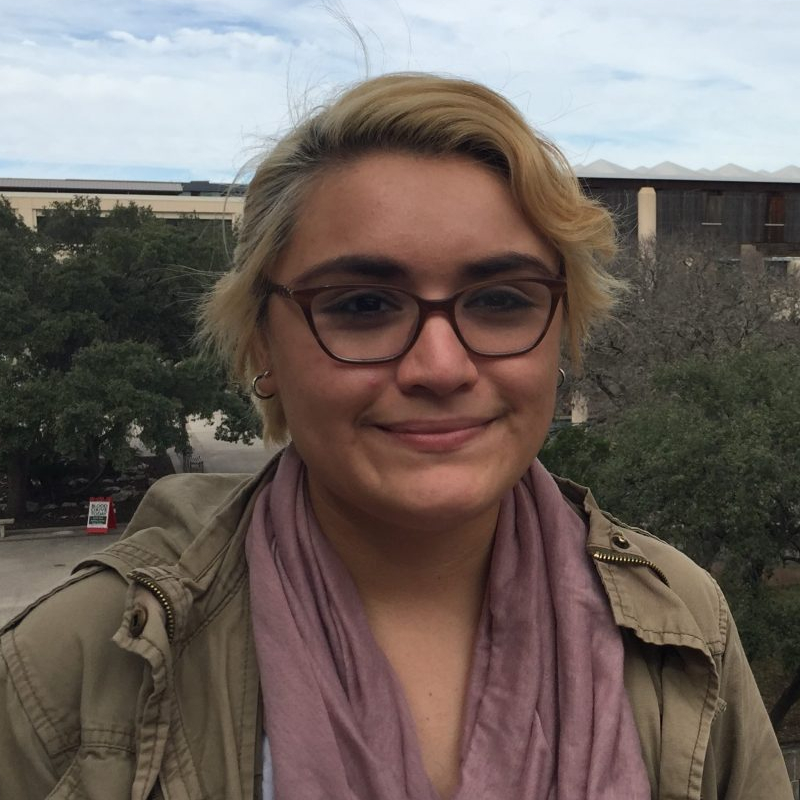 AJ
My name is AJ Marroquin. I'm a junior at UTSA with a major in English and a minor in Anthropology. I'm also a first-generation student. Here at UTSA, I've found groups of people that have matched and encouraged development in my personality and allowed me to explore various interests related to my identity and professional and academic goals. Currently, I'm participating in a Mellon research program focusing on Chicana feminist criticisms in literature, connecting to my broader interest in looking at issues of gender and sexuality in texts and how they reflect societal changes. I hope that while attending grad school, I can highlight the narratives of marginalized groups in my research by focusing on identities like Chicanxs, women of color, and members of the LGBTQIA+ community.
A successful mentee meeting includes working with the mentee to focus on their classes and concerns regarding coursework and professors, encouraging them to attend campus events and get involved in organizations that matched their interests, giving them tips for how to interact with their classmates and get to know the UTSA family. The same mentees who had little to say at our first meeting now drive the whole thing, telling me stories about study groups with their friends, their activities around campus, and general enjoyment of their time as college students. It makes me so proud to know that I saw this transformation happen and was able to help nudge it along when needed. For me, that's the most fulfilling part of being a mentor because it encourages me to do the same.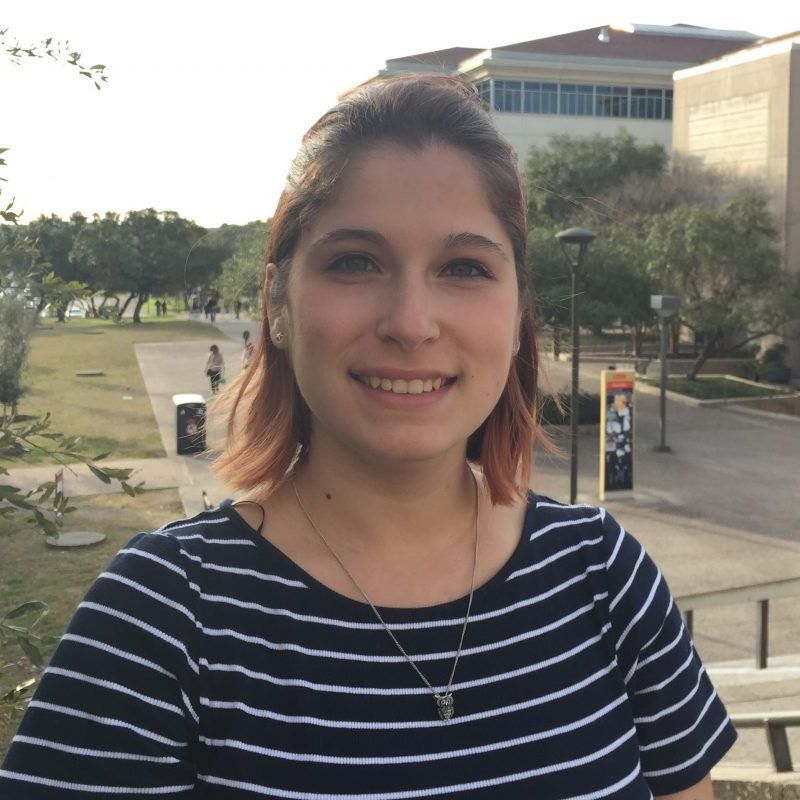 Diana
My name is Diana Dimitriu. I am double majoring in Electrical and Computer Engineering and minoring in Mathematics. I am a senior but it is only my second year as a full time college student. I came from high school with about 60 college credit hours which I transferred to UTSA. This is thanks to dual credit, AP credit by examination, and summer and evening classes at both San Antonio College and Northwest Vista. I have been on both the President's List and the Dean's List. I am a College of Engineering Ambassador and a member of Tau Beta Pi (the Engineering Honor Society). Lastly, this semester I have the fortunate opportunity to mentor a robotics team from Leal Middle School.
To me, being a mentor means to be someone that people can trust. You don't have to have all the answers but if you can gain the trust of your mentees then you have done your job. To have someone's trust means that you do everything in your power to help them. If you know the answer to their question, then gaining their trust would involve getting the answer to them as swiftly as possible and ensuring that the person understands that answer. If on the other hand, you don't know the answer, then trying to find that answer or a place with the answer to that question is what you need to do. Never tell someone false information.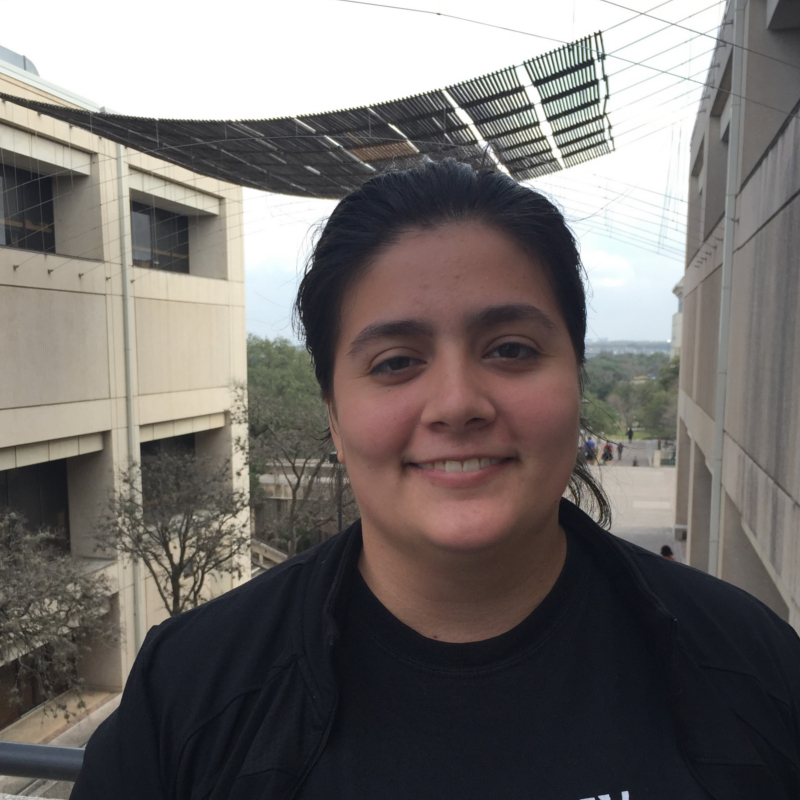 Olivia
Hello!  My name is Olivia Comas Wood. I transferred from San Antonio College after spending a year at the University of Arkansas in Fayetteville.  Now I am a sophomore here at UTSA, majoring in anthropology and minoring in physics.  I'm involved as the Social Media officer for the Anthropological Society. I enjoy reading, writing, and filming in my spare time as well as researching documentaries. My life goals include a doctorate in anthropology, a master's in physics or engineering, and founding a production company which utilizes the principles of cultural anthropology and houses ethnically and culturally diverse group of employees and creative minds to connect with a diverse audience.  In my career, I'd like to study how community outreach impacts the relationship between law enforcement and young adults within the community.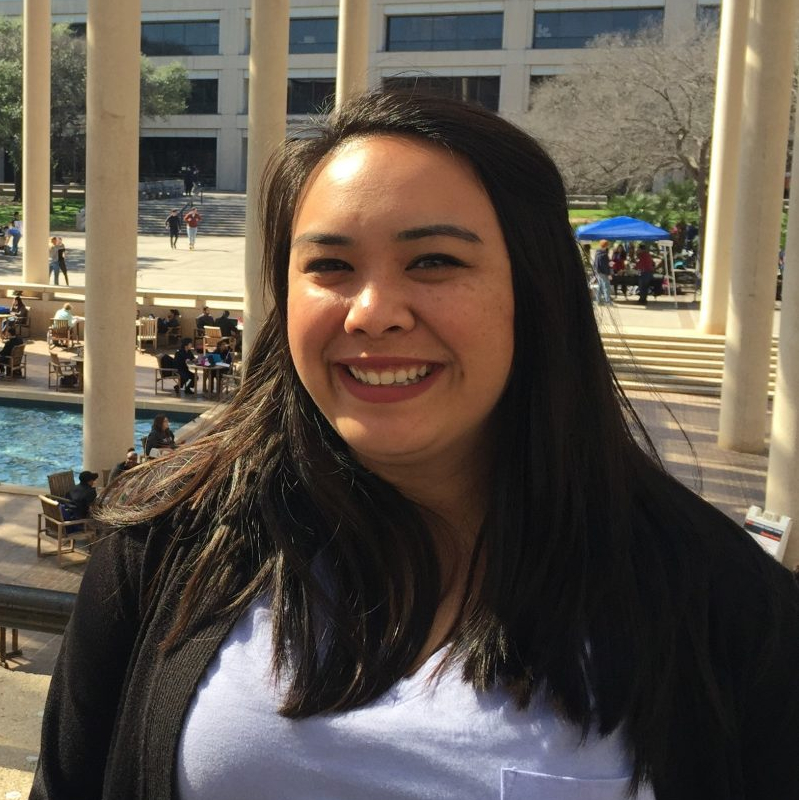 Mailaine
My name is Mailaine Patton and I am a senior at UTSA. I am a first generation, non-traditional transfer student. I have been attending UTSA since spring of 2015 and will graduate spring 2018. I am the historian of UTSA's pre-dental society and a member of the student organization Gateway. I am a biology major with hopes to be a dentist. I am very passionate about the healthcare field and hope to spend my life helping people live a happy healthy life, one smile at a time.
I am proud to be a mentor and help ease the stress of transitioning to UTSA by providing community and support to all my mentees.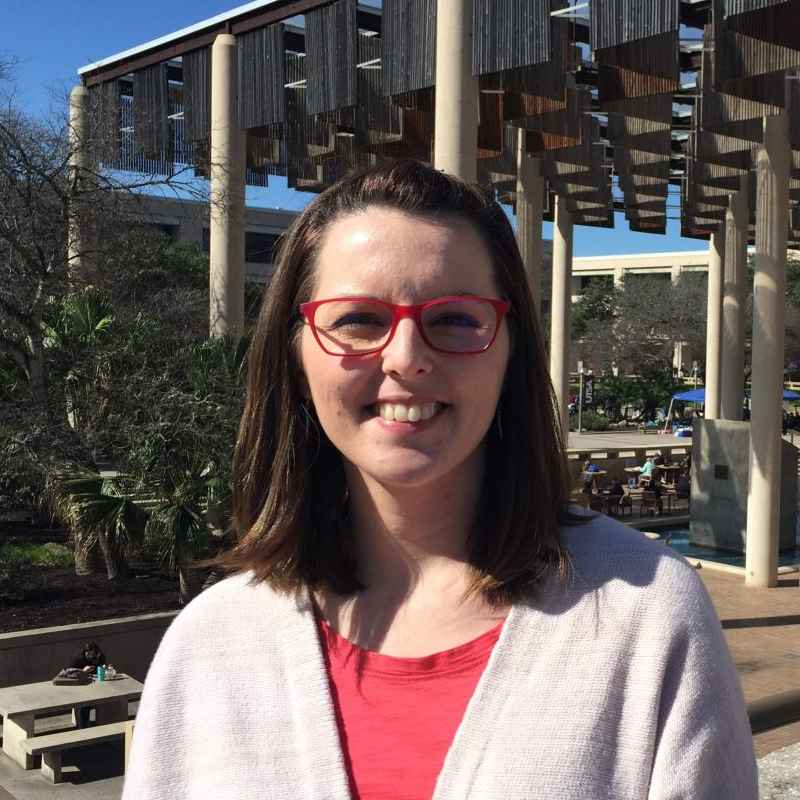 Katie
My name is Katie Moheit and I am a transfer student entering my senior year here at UTSA. I transferred from both the Northern Virginia Community Colleges and Northeast Lakeview College. My major is English with a concentration in Professional Writing; I hope to use this degree to become an editor one day.
I find the best part about being a mentor is that I am assisting those that I am mentoring and they are assisting and teaching me things as well. I hope to help each mentee, in at least one way, to reach their goals.19 states and 2 countries.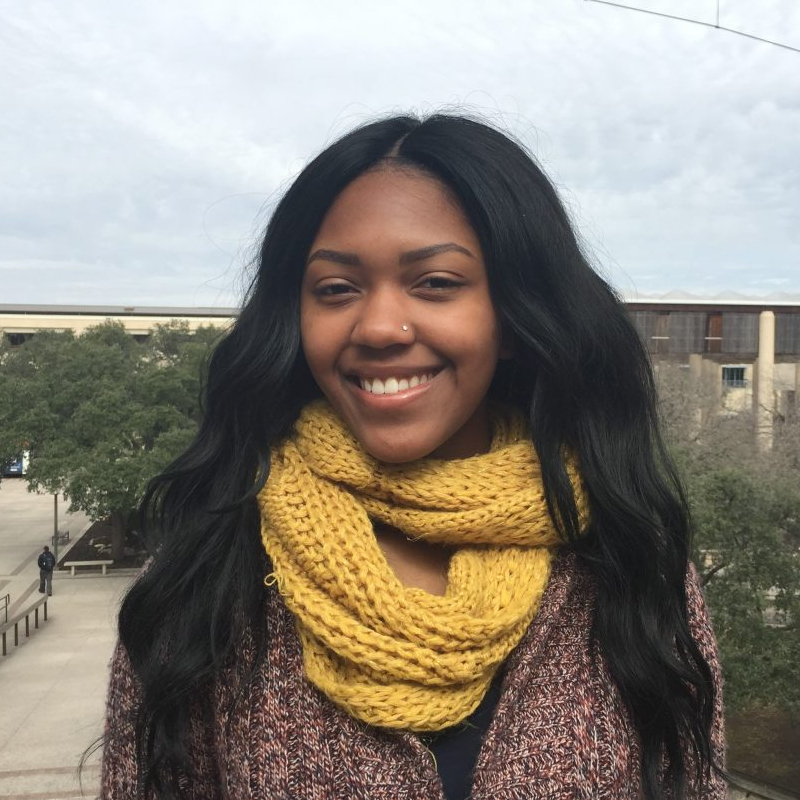 Isis
Hello! My name is Isis Burks and I am a junior here at The University of Texas at San Antonio. I transferred from Harris-Stowe State University, in St. Louis, Missouri, in August 2015. I am majoring in Kinesiology with a concentration in Athletic Medicine. I plan to attend Physical Therapy school and receive my doctorate in PT. I would love to rehabilitate professional, collegiate, and youth athletes. I am a member of the National Association for the Advancement of Colored People, VOICES, and the Black Health Professions Organization here at UTSA. I have received the United States National Army Reserve Scholar Athlete Award and the University of Texas at San Antonio Distinguished Transfer Scholarship.
Mentoring is so valuable because it is nice to have someone that will lend a listening ear and offer help when it is needed. Being a mentor means that I can offer advice and guidance to my fellow peers. I was a mentor in high school and I loved that I was able to assist people in the best way that I could, whether it was academic, family, or social problems. I try to be a great peer mentor because as a transfer student, I know what it is like to be in a completely new environment and not know anyone or have anyone to talk to. I wish I would have known about RTE when I got here because they supply you with so many resources and information along with a peer mentor that has been in your position and that can speak from personal experience. I strive to be the mentor that I wish I could have had.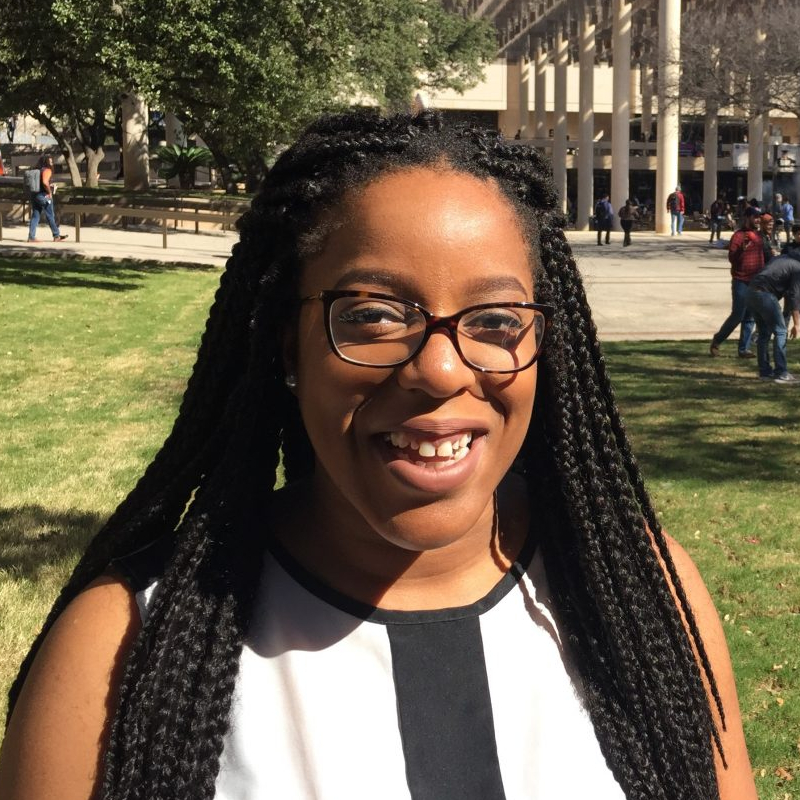 Joy
Hello! My name is Joy Rose. I am senior majoring in Public Health with a concentration in Epidemiology and Minor in sociology. I transferred from Blinn College in Brenham Texas where I was in the Marching band. I am A peer mentor for RTE, Health Honor Society Secretary, Health ambassador for Dr.Yin's diabetes research project, and hopefully more to come! As far as interests, I love helping under-serviced communities, and working for RTE allows me to do that. After I graduate, my main focus will be impacting women's lives through philanthropy.
What can people gain from having a mentor? People can gain not only confidence in themselves and their abilities to successfully navigate their way through the sea of young faces, but give them peace of mind knowing someone is on their side. It is easy to feel like a number when attending a university, but being apart of RTE helps students feel more involved and in-touch with the UTSA community. Having a peer mentor also allows students to become a-part of our PIVOT familia!
RTE Peer Mentors Bio Word Cloud