Mentee Spotlight
Rosalee Hernandez
Area of Study: Microbiology and Immunology
Mentee with RTE since Fall 2017
Rosalee is a Junior majoring in microbiology and immunology. She has been an active mentee with RTE since transferring to UTSA in the Fall of 2017. Rosalee joined RTE because she was new to San Antonio and UTSA and felt the program would help her gain knowledge of the campus and not feel lost.
Rosalee was chosen for mentee spotlight because of her participation in Alternative Winter Break. This event provided relief efforts for the communities impacted by Hurricane Harvey. She enjoys volunteering, but due to her busy semester schedule she is limited to what she can do. Alternative Winter Break was the perfect solution for her schedule, she got to spend her free time helping people in need. Way to go Rosalee!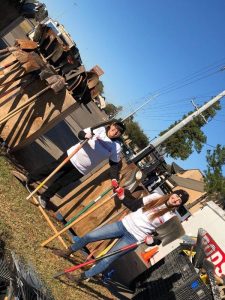 NAACP Week
By: Isis Burks
On Monday, February 12, 2018, UTSA's student organization, The National Association for the Advancement of Colored People (NAACP) began their yearly NAACP Week. This student chapter hosts various events in honor of their founders' day and week. Monday evening, they hosted their 3rd annual "2 Can Play That Game" event. The facilitators of this event were: Isis Burks-Education Chair, Ebony Hamilton- Health Chair, and TaMarr Daniels- Assistant Secretary. This is a sexual health awareness event that is intended to educate college students about sexual intercourse, risks, and prevention. However, the event is not the average mundane informational. These students put a fun twist on it by facilitating games that get their peers out of their seats, moving, and even singing while learning.
The first activity was "Sexy Singing". The participants sang a variety of Karaoke style, mainstream songs that contained sexual innuendos. While having fun singing songs that they usually listen to, students were made aware of the actual content in each song. Sometimes songs contain underlying messages that we might not think about because the music may be catchy and makes you want to dance. This activity also taught the participants to be more aware of their surroundings. Choosing to sing these songs are a personal choice that one does have the right to make, but maybe you should not sing them in front of younger siblings and peers. You would not want to send the wrong message too soon.
The next activity was speed dating. Contrary to the name, it was not the typical speed dating, it was more like a "meet and greet". Students asked a variety of different questions that are typical in the first date or that they find important when getting to know someone. This game was a great way of getting the participants to meet new people that they did not know before and learn new things about their peers.
The third activity was the Condom Line-up. Students were given a jumbled list of steps of correctly putting on a condom, and they were tasked with putting them in order. Then, 5 pairs of students competed in a relay in which they coached their partner on how to correctly put the condom on a banana. People do not like talking about this part of sexual intercourse and just assume that everyone knows how to do this. However, there are a vast number of individuals that are not aware of the proper steps.
The final activities were six different relationship scenarios that many of the students could relate to, and a kahoot game. The kahoot game featured a variety of sexual health facts that were covered throughout the night. Although "2 Can Play That Game" was not the average sexual education event, it did a great job covering the topics that often make people uncomfortable but need to be addressed.
Valentine's Day Potluck
By: Isis Burks
On Wednesday, February 14, 2018, PIVOT hosted their Valentine's Day Potluck in their office located on the third floor of the Flawn Sciences Building. The event was scheduled from 12pm to 2pm, but it was such a success that it lasted a little longer than planned. Since it was a potluck, a vast majority of the people that attended brought a dish, which resulted in a plethora of food. There was pizza, chicken, fries, jalapeno poppers, cake, and so much more. During the potluck, the First To go and Graduate mentors hosted a raffle in which the winner received a gift basket with a variety of different candy and treats for Valentine's Day. It only costed one dollar to enter the drawing and the winner was one of RTE's lead mentors, Diana Dimitriu. Although there was a lot of food, there were other activities available. The mentors set up a cookie decorating table where anyone could decorate heart shaped sugar cookies with red, pink, and white icing. Also, the event attendees were able to create Valentine's Day cards and even sign the wall with what they love the most. The event was meant to serve as a great social and networking event that allowed mentees, mentors, and faculty and staff to get to know one another and have fun in the process. All in all, the event was a success.
How to Network in Today's Economy: Reflection from Leadership Takeover
By: Alfred Wande
Otis Scott talked to us and tried to give us knowledge on how to network in today's economy.
Success is not what you know, it's not who you know, but it's who wants to know you.
His philosophy of networking is "using the people have with one another to increase your exposure to information and opportunity." He states that having a network is a good way to be successful in the real world. An interesting fact from his presentation was that most businesses will fail within the first 5 years without a network. Another interesting fact that was given was that first impressions count even, if it's online. He also stated that 45% of employers use social networks to screen job candidates and that 35% of employers did not offer jobs because of the content recovered from social media.
Scott advised us to choose our friends wisely because you are who you associate yourself with. He also wanted us to be aware of what we post on our social media accounts because more than likely it can come back to harm us in the future.
Scott provided LinkedIn as a good resource to start building networks. Throughout the entirety of the presentation Scott provided valuable information on how one can start networking and also market themselves.
Communication: Reflections from Leadership Takeover
By: Joseph Ulloa
One thing I learned from "Leadership & Communication", is that communication is key to a great relationship, whether it is personal or professional. It is important to keep this communication efficiently simple and straightforward to your audience. One thing I learned from session 2 "Communicating across difference", is that everyone has a different perspective of how to handle a situation and may have a different view of the topic at hand. This helps a leader become familiar with other views and to put oneself into the co-individual's shoes. One thing I learned from session 3 "Tell Me Again What Your Organization Does?" is how to improve your elevator speech through discussing the purpose of your organization in the most direct way possible.
Leadership Takeover
By: Deonte Orange
The Leadership Takeover event was very insightful and helped me realize how important it is to not only be a leader but also what it takes to be an efficient and effective leader. I was able to identify techniques needed to transform my leadership skills, define what it means to be a leader, as well as gain great advice from experienced professors and students. It also influenced me to continue my leadership growth and has inspired me to take on more leadership roles.
I would recommend this event to future peer mentors because there is a lot to learn about yourself in terms of accomplishing personal goals, as well as how to be a better peer mentor through improved leadership skills. Also, the skills you learn at the event can be applied in any position or situation and will benefit you throughout your life.