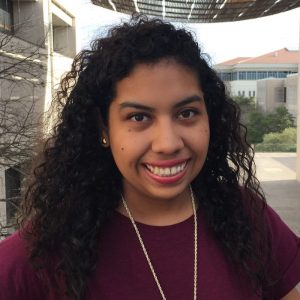 Glennette Castillo is a Biology major, pre-med student, and graduated from Tom C. Clark High School. She was born and raised in San Antonio Texas and wholeheartedly supports the Spurs. Her favorite student organization on campus is For The Kids Dance Marathon. She is also an avid reader of the Paisano student newspaper and a volunteer with the Terry Scholars and FAME Society.
She hopes to use her Biology major in her pursuit of an M.D. at the UTHSCSA School of Medicine.
As a peer mentor, Glennette can offer her organization skills and time management ideas to improve as a student, as well as support in achieving any academic, social, or volunteering goals. She is fluent in Spanish, able to read, write, and speak it. She is here to help you discover the different resources UTSA has to offer, find ways to get involved on campus, and provide encouragement and guidance.
PIVOT RTE Peer Mentor